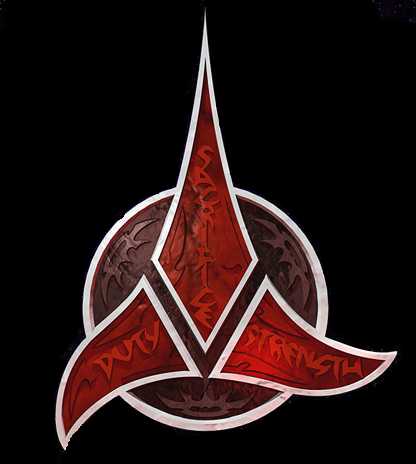 Sweet Home Qon'oS
Sung to Sweet Home Chicago*
Lyrics:
Chorus
Come On, Baby don't ya wanna go
Come On, Baby don't ya wanna go
Back to that same ole place
Sweet Home Qon'oS

1st Verse
One and One is Two,
Two and Two is Four
I swear I've seen that Feddy ship
somewhere before, Hidey Hey


2nd Verse
Two and Two is Four,
Four and Four is Eight
ya better fire disruptors
before its too late, Hidey Hey


3rd Verse
Six and Two is Eight,
Eight and Two is ten
Ya fired once ya better just
Fire again, Hidey Hey


4th Verse (repeats twice)
Six and Three is Nine,
Nine and Nine is Eighteen
Lookit there baby
See those Klingons I see, Hidey Hey



This was a really early K'Filk song. It was originally performed acoustically with Goldy(Maltz) on an acoustic guitar and Thor (T'hor) on an acoustic Bass. This was written back when the whole band concept was still a joke. We wrote this one because Klingon Blues had gone over so well. We needed another party song and this was it. We played this song as an encore at Vulkon in Orlando. This was the 2nd K'Filk song written. A friend of ours Tom (K'oran) was just learning to play harmonica and was sitting in at gigs with us when we played this. So, when we recorded the album, we threw him in with us.
*No Disrespect to Sam & Dave is intended